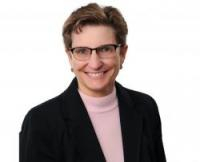 April 12, 2019 -- The Women Attorneys Association of Topeka selected Natalie Haag as the 2019 Chief Justice McFarland Award recipient. Haag is Executive Vice President - General Counsel at Capitol Federal Bank in Topeka. She recently served as one of the four leaders of Governor Laura Kelly's transition team. This is one among many accomplishments of Haag.
The Chief Justice McFarland Award is awarded on annual basis to an attorney who has (1) achieved excellence in her field, (2) influenced other women to pursue legal careers, (3) opened doors for women in a variety of job settings that were historically closed to them, and/or (4) advanced opportunities for women in a practice area or segment of the profession.
Haag is the 14th woman attorney to be selected for the honor. The first award was given in 2006 to Chief Justice Kay McFarland. For more information on the award, visit TopekaWomenAttorneys.com.