For the first time since 2019, KWAA members met for the Annual Conference in Lindsborg, Kansas in person on July 14-16, 2022. Judges, lawyers, and law students traveled from across the state and beyond for the appropriately named "Homecoming" conference.
The Solo Practice and Small Firm section kicked things off with a luncheon on Thursday, after which attendees jumped right in to CLE's. In the afternoon, the University of Kansas and Washburn law schools welcomed their alumni to receptions in downtown Lindsborg.
The first day wrapped up with a keynote speech by Kansan and New York Times bestselling author Sarah Smarsh. Attendees did their best to find some shade during the outdoor speech before a reception and book signing in the Sandzen Gallery. Ms. Smarsh is a journalist and author who focuses on socioeconomic class, politics, and public policy. Her first book, Heartland: A Memoir of Working Hard and Being Broke in the Richest Country on Earth looks at socioeconomic class and public policy through the lens of Sarah's childhood on a family farm near Wichita, Kansas. Sarah read a passage from her book about some of her and her grandmother's interactions with the legal system, including her grandmother's fight for custody of her son and work as an assistant to a Sedgwick County Judge.
Sarah Smarsh speaks to 2022 Annual Conference Attendees near the Bethany College Outdoor Amphitheater.
Energetic attendees rose early Friday morning for the Coronado Heights Fun Run, Lindsborg City Walk, or yoga class. After another slate of great CLE's, the Appellate All-Star Review wrapped up the morning's classes with summaries of some of the leading appellate court decisions from the last year. The panel was made up almost entirely of judges who have taken the bench since the 2019 Annual Conference and who were appearing as panelists for the first time in person. Since the 2019 Annual Conference, Judges Sarah Warner, Amy Cline, Lesley Isherwood, Jacy Hurst, and Angela Coble have joined the Court of Appeals, while Justice Evelyn Wilson joined the Supreme Court and Justice Melissa Taylor Standridge left the Court of Appeals for the Supreme Court. Additionally, Judge Karen Arnold-Burger helped the judges with their power point presentation and retired Justice Carol Beier introduced the panel. KWAA deeply appreciates the contributions of these judges in making the conference a success.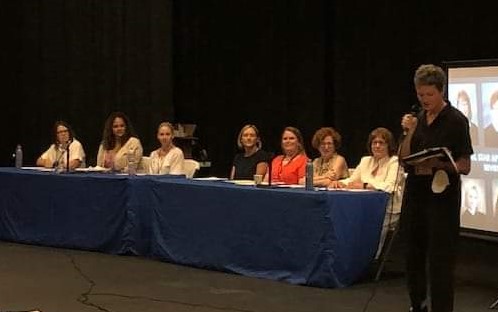 Justice Carol Beier introduces the Appellate All-Star Review Panel at the 2022 Annual Conference.
During lunch on Friday, KWAA held its annual meeting. Outgoing President Eunice Peters passed the torch to incoming President Whitney Casement. Members voted to approve the slate of officers as follows: Etta Walker for President-Elect, Sara Zafar for Secretary, and Ellen O'Leary for Treasurer.
Whitney presents Eunice with a gavel honoring her service as President.
Friday afternoon afforded attendees some time to shop downtown or rest before heading to Moondance Tree Farm for dinner and awards. In the early days of KWAA, Moondance Tree Farm often hosted dinners for all attendees. Members had the chance to gather there once again, this time in 103 scorching degrees of Kansas heat. Fans, water, and lots of ice –Kona Ice included – helped attendees stay cool, or at least cooler. The Honorable Tom Marten and his band provided live music. The pinnacle of the evening was the announcement of Carol Foreman Medal of Civility Award Winner Ann Zimmerman and Jennie Mitchell Kellogg Award Winner Marilyn Harp.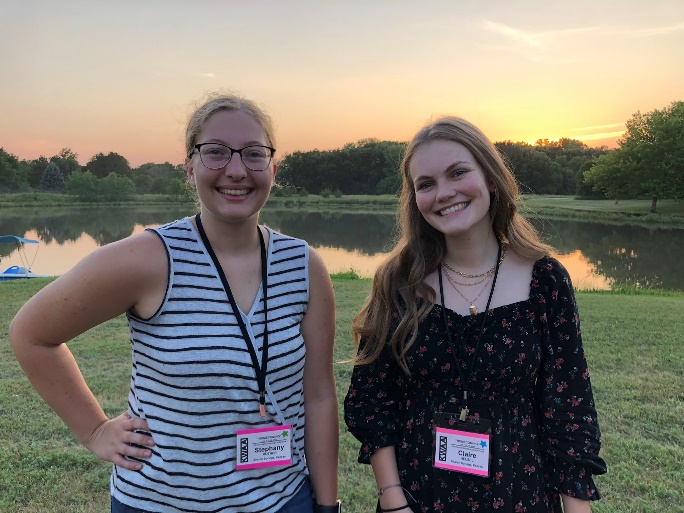 Attendees enjoy the sun and scenery at Moondance Tree Farm.
The conference marked KWAA's 33rd annual conference. Thirty-seven first-time attendees, including a number of students, were among the 189 registrants. Attendees had the opportunity to earn 13.5 total CLE hours, including three hours of ethics and two hours of law practice management credit. KWAA thanks Annual Conference committee chairs Lauren Hughes and Amanda Wilwert, along with everyone who contributed to making the conference a success, for all of their hard work.